Blogging doesn't come as naturally as it did for me as an indoor kid desperate for attention community or a discontented college student. Now it comes with much more self-flagellating pressure to produce something more valuable than the glorified data-entry demands of my administration day job.  Now my creative brains meets every inspiration with an unwelcome "what if," and my anxieties about getting the dishes in the dishwasher or returning that text message distract me from every writing session I try to get through.
That isn't to say I don't have the passion or skills to share what I have to offer (what that is or what others can glean from it is yet to be determined), but rather that it requires concentration I have not practiced since I was in undergrad. All the marijuana in world could not inspire enough content alone to keep me going.
I thought that when I started building up my social media acumen, my focus would be on content I truly find cathartic on the Internet: targeted, honest, and humor-laced rants. I don't know that I'm a funny person, but I know that I'm at my funniest enraged. I love nothing  more than a personality I follow and enjoy going off on something I find equally disdainful, whatever that my be.
However, in my own bursts of outrage, they usually aren't the release I needed to feel. I appreciate the camaraderie when someone else revels in my despair, because it's how I feel on the other side of the screen. But more often than not, I end up in a cyclone of doubt hours later, wondering if I've offended someone or contributed to yet another unflattering female stereotype.
I actually feel the best about my writing when I'm sharing thoughts that help me, or someone I look up to, or a product that has truly made a difference in my life. So much so that I just started making little iPhone notes about how giddy stupid things make me – how many uses I can find for my immersion blender, how happy I get when I'm putting on my face cream that smells like lemongrass, or how many DIY videos I've binge-watched on someone's YouTube channel. I think it is a wonderful thing to have generosity of spirit, and a contagious thing at that.
All that is to start a very long-winded intro to a series I've tried to construct from these little notes, which I'm calling my "sunday love letters." I try my best to spend my Sundays, or at the very least Sunday mornings, preparing myself for the week ahead. This is when I schedule my workouts and meal-prep snacks I can grab on my way to work, but it's also when I set time aside for relaxation or fun projects – whatever will motivate me to stay positive during the week. Each love letter is meant to express gratitude for one theme that affects me.
SUNDAY LOVE LETTERS
TO: MY STONER SHEROES
To the musicians,
To the writers,
To the women-be-working,
You're not just rolling with the guys or passing out joints dressed up as a naughty nurse with a big green cross on your brim. You stand on your own and with your girls. You defy expectations. You're entrepreneurs and you don't have to "have it all."
To the Nancy Botwins. From the moment I witnessed Mary Louise Parker effortlessly chug an iced coffee while chauffeuring her kids in an SUV laden with marijuana… I wanted to be her. Not only did I yearn to see beautiful and funny brunettes on television, but Nancy Botwin on the show Weeds was a clever one indeed.  In 2018 legal marijuana is becoming as ubiquitous in the suburbs as it is in the metropolises, but Nancy – a suburban widow just trying to make a a buck turned enemy of the cartel – was a testament to her time in the 00's. She preceded "boss bitch" and "kush girl." Nancy was hot, a mom, and an entrepreneur. She made increasingly terrible decisions, and in those terrible decisions she was endearingly human and unapologetically Nancy.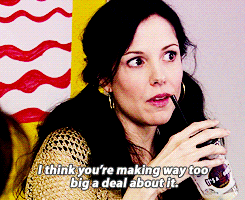 To the Abbis & Ilanas. My formative years were the decade in which Pineapple Express and the Harold & Kumar series became instant classics. I immediately connected to how they took the dumb-ass antics my low-grade-delinquent friends and I were up to in high school and blew them up to outrageous overnight adventures. But it was glaringly obvious that the female buddy-comedy equivalent was absent from this lineup. So much so that the script I tried to base off my two best girlfriends for my college play-writing class seemed novel at the time, but unfortunately I lacked the follow-through of Abbi Jacobson and Ilana Glazer. When their show Broad City premiered in 2014, my prayers were answered and are still going strong. They fit in with the trend of series about adult Millenials just trying to get their shit together, but from episode to episode they are doing their best. These are women confronting the system every day, and even when things don't work out, their pot-smoking isn't to blame. In fact, their metaphorical right to light up is another middle finger to the patriarchy.
To the Rihannas. I have ridden the Rihanna wave from her debut as a Caribbean dance hall queen to the Queen of IDGAF. I would have to dedicate an entirely different post to her talents as a songstress, from her club hits like "S&M," to ballads like "Stay," and most recently her fire verse on Pharrell's "Lemon." (All of which I regularly karaoke poorly in the comfort of my 2005 Acura.) Instead I am compelled to profess my love and appreciation for RiRi as a lifestyle. She is one of few A-Listers who doesn't respond to her own relevance with dramatic headlines or total seclusion. She is relentlessly Rihanna, for better or worse, but usually the best. If she wasn't famous-famous, she would be Insta-famous for her defiant tweets and photos on rolling, smoking, legalizing herb. Famously she rolled a blunt on her bodyguard's head at Coachella 2012 and tweeted,  "I'm crazy, and I don't pretend to be anything else."
To all the Stoner Sheroes. In this consistent societal avalanche of ladylike expectations, track by track you plow the way for women to try new things without the label of "cool" or "uncool." It is a blessing that there are so many of you that my list seems menial, that I could quadruple my list and still not come close to mentioning someone's favorite ally.
Many bless'd nugs upon you.
Who are your stoner sheroes?
Love,
VV